March 6, 2020
iPEC's mission is to "raise the consciousness of the world, one person at a time."
This sounds like a large feat, and we are using every opportunity, every day, to see this intention manifest in the world. One of the ways we bring this intention into fruition is through our coach training program.
Other ways include coaching, events, writing articles to share on our Learning Center, interviewing influencers, and doing our best to provide as much value as possible to you.
Because you are the reason we strive to raise the consciousness of the world. You are the one person that can and will make a difference. Finding and living your purpose is what will ultimately change the world.
That's why we are excited to announce our newest LIVE streaming series!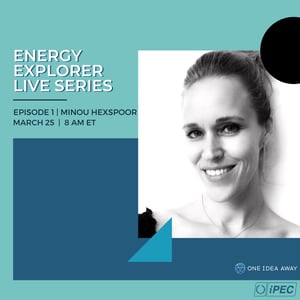 Hosted by iPEC President, Luke Iorio, and other iPEC team members, the Energy Explorer Live Series will highlight people who are using their talents, drive, and highest selves in order to live their purpose. You'll get to hear about the head and the heart, the structure and the balance, the creativity and the freedom, to help you create the life of your dreams.
You'll hear from graduates of our coach training program, authors, speakers, and all-around inspiring human beings.
Bring your questions, curiosity, and your favorite note-taking tools because there will be lots of learning happening on these livecasts!
Launching on March 25, 2020, Luke will be joined by Certified Professional Coach, Minou Hexspoor, for a live interview! Minou and Luke will discuss creating a life of freedom and reconnecting with what we're truly looking for in our lives. Tune in live to ask questions and share your "ah-ha" moments with others on the livecast.
Click here to register and receive a reminder!
We'll see you there!