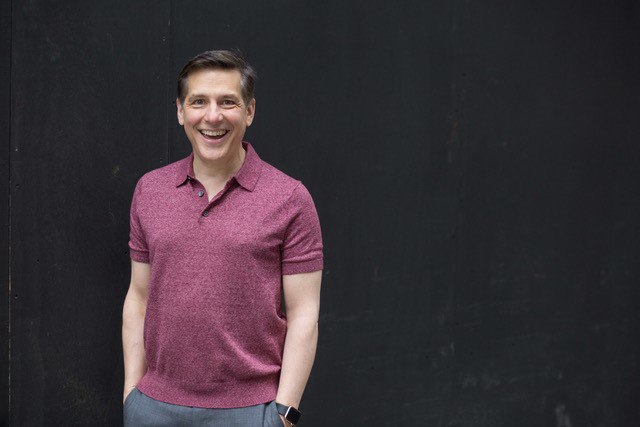 Meet Lead Trainer, Mark Schall!
From a trainer perspective, Mark Schall is often referred to as a "one man Broadway show." He has a knack for hitting all the right notes with his special brand of training which includes wildly entertaining stories, a wicked sense of humor, and his proclivity to break into a song at the drop of a hat. Through it all, Mark has a way of taking abstract concepts and making them relatable through a vivid word picture or personal account to add context. As the longest standing trainer amongst the iPEC team, Mark calls what he does "edu-tainment," or what he refers to as education entertainment.

"I just love to make people laugh and I have a story for everything." Mark continued, "I'm actually shy and uncomfortable in groups of new people unless I have a role—like being the instructor of a training class where I take charge. If I am attending a party with people new to me, I am much more reserved initially. I tell jokes to make people laugh as an icebreaker."

With more than 20 years of experience speaking and facilitating programs (for groups and individuals) around the globe, on many sensitive organizational, interpersonal, and personal issues, as well as coaching managers, executives, and front-line employees at some of the nation's top companies and government organizations, Mark is a professional at the top of his game. In addition to his practice, MarkSchallCoaching.com, Mark also partners with Conductive Coaching—a coaching company founded and owned by another iPEC graduate.

Mark became an iPEC Lead Trainer in 2007. He is also a Professional Certified Coach with the International Coaching Federation (ICF). As a recognized expert coach, motivational speaker, facilitator, and educator specializing in human potential and interpersonal communications, Mark has guided more than 2,000 new coaches through the iPEC Coach Training Program across the USA, Canada, and Europe.

"It's fun leading the class for three days. Seeing the light bulbs go on for them and knowing this work is transforming their lives." Mark continued, "Personally, I live the iPEC Foundation Principles and use coaching skills in all of my communication with people. Whether I'm having a conversation with a friend or speaking to a stranger next to me on the plane, I can ask a question that forges a connection. I love that!"

When asked what others might be surprised to learn about him, Mark exclaims through uproarious laughter, "I'm wanted in six states!" Then with a slightly more serious tone, he said "While I have a preference for a minimalist esthetic and I'm drawn to what is simple and beautiful, I tend to clutter. Wherever there's space in my home, there's something in it. It's a constant push and pull for me."

Mark Schall resides in the heart of New York City. When he's not training or coaching, you can generally find him behind a microphone somewhere in SoHo sharing a story, or leading his weekly podcast, Mark My Words, or singing as one of the 250 voices in a premier and historic New York City chorus. At times, he has even been known to take requests.