The Story of iPEC - By Judi Ketteler
Gina Costa-Goldfarb had just been diagnosed with cancer. Michael Timmes was about to lose his corporate HR job. Martin Salama was getting divorced. Diane Dempster was raising a child with ADHD. Denise Clelan was living with chronic pain. Andrea Kao was considering quitting her job. Bridgette Simmonds was going back to school. Natasha Lindor wanted a change of scenery.
Lives in flux.
One way or another, they all wound up at the same place: the Institute for Professional Excellence in Coaching, or iPEC, a school that trains people from all walks of life to coach others in life, work, and business. iPEC is on a mission to help students have the greatest impact on the lives of others—by awakening their own passion, purpose, and potential.
It's fair to say that many people who walk through the doors of iPEC have absolutely no idea how that mission will play out in their lives. Some come to iPEC by making a deliberate decision. Some are following curiosity, finally heeding that whisper that's been nagging them for years about becoming a coach. Others know only that they need something different. Though they come at it from a wide variety of life experiences, just about every iPEC student is there because of a desire to guide others. To coach people.
What sometimes surprises them is that they are their own first clients. They can't coach others to look at situations differently and embrace shifts in attitude until they have opened spaces within themselves to see their own participation in the world differently. The self-work comes first—and then, the possibilities are limitless.
In that way, iPEC is a story of concentric circles and exponential influence. What happens inside the classroom (modules, exercises, discussions, peer coaching) sets the stage. But what happens outside the classroom is the source of iPEC's momentum.
***
"I'm not meant to keep this to myself"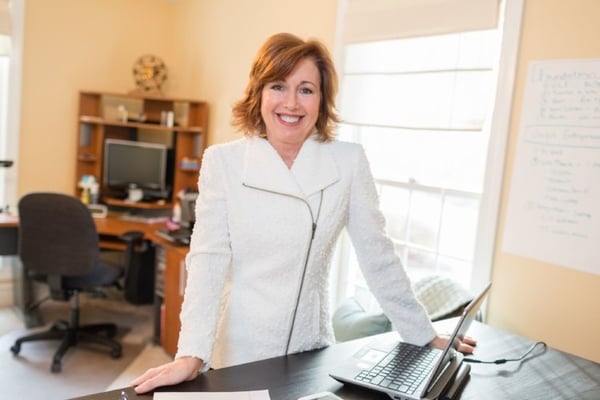 Denise Clelan, who ran her own financial advising practice for 26 years, was at a breaking point before she decided to enroll at iPEC. The stress of owning and running a business subject to market volatility—coupled with the demands of family life and a serious chronic health issue—took her to a very dark place in 2011. "I was in a space where I nearly lost my life," Clelan reveals.
She had attended many motivational seminars in the past and even worked with a business coach. When iPEC popped up in one of her web searches, she was drawn to it and wound up enrolling shortly after. From the first module, Clelan felt something shift. It wasn't merely "business" learning. "It was an unexpected clarity, a stripping away of all of the false selves I've built up over the years," she says.
"It was a very spiritual experience, to have gone through more than 50 years being a certain way, and then to be able to cast off so much of the inner junk that was holding me back," she says. Clelan was discovering the magic of developing conscious awareness—the idea that we live each moment with a choice of how to be. It's such a simple idea, with deep and ancient roots. But, it's one that iPEC has refined and brought to the masses in a highly teachable way. Learning to access conscious awareness shifts people in amazing ways. That's what Clelan saw. She saw something else, too. "I had this thought: I'm not meant to keep this to myself. Everybody should have this opportunity to be free of the inner battles and turmoil and thoughts that hold them back," she declares.
That deep desire to share—to spread the message—is what iPEC is built on. "When you come out of iPEC training, you have a great skill set to impact people in a larger way," Clelan says. After graduating, she went on to start Clelan> Coaching—where she specializes in coaching other entrepreneurs, helping them make their own shifts. For example, she worked with a veteran business owner (he'd been in business 30+ years). His income had steadily risen each year—until it leveled off, and then began to drop, eventually becoming halved. "When we started working together, at first, for him, it was all about productivity and finding ways to create new business opportunities. But he also had a lot of fear," she reports.
Clelan helped him make the shift from 'doing' to 'being' (something she had learned to do herself through iPEC's Coach Training Program). "He began to let go of fear and embrace the truth of who he was: a brilliant guy, extremely gifted and talented in his business. He began to live his authentic self—a concerned, connected, compassionate human being—and he put that in the world, instead of spinning his wheels just trying to churn up new business opportunities," she describes. That led him to attract better experiences and make fruitful connections. "In the year after we started working together, he doubled the income on his best year ever," she affirms.
iPEC doesn't have a one-size-fits-all approach, but it does offer a methodology for learning about shifting consciousness and energy. This, coupled with the skill building aspects of the program, is what sets iPEC apart from all other coaching schools.
***
"The biggest change is that I no longer see the world from a default position."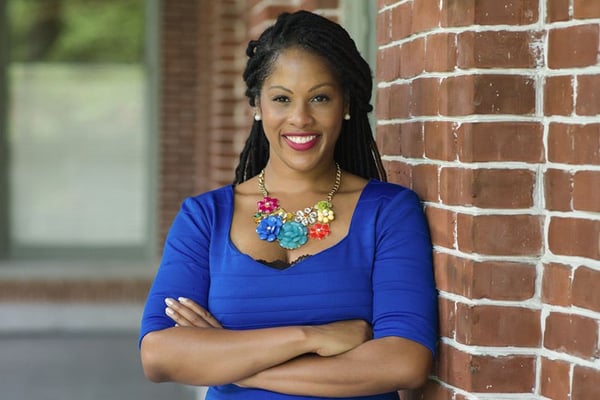 Bridgette Simmonds was in her early thirties when she asked the question we all inevitably ask: "Is this all there is?" She had a good education and was successful in her career. But something was missing—mostly, a sense of fulfillment. She purchased a book about life coaching and promptly stuck it on her shelf, where it stayed for several more years. But she continued to soul search. One of the things she did was reflect upon the patterns that had shown up in her life over and over again, as far back as she could remember. A key pattern was people coming to her asking for advice or saying they felt better when they talked to her. "I connected psychology to that kind of thing, so I decided to go back to school to pursue a Master's degree in psychotherapy," Simmonds says.
While she was enjoying the curriculum, she realized pretty quickly that it wasn't a complete click for her. "I liked learning about people and what made them tick. But, I wasn't as interested in solving dysfunction. I wanted to learn more about helping functional people," Simmonds recalls. So, she pulled the old life coaching book back off the shelf and began researching coaching schools. That led her to iPEC. "The moment I walked into the first class, I knew I was supposed to be there. I felt like I had landed on my planet and met my people," she says.
What changed everything for her was learning about the Energy Leadership process and the levels of energy defined within it. There are seven levels of energy: the lower levels are catabolic (destructive and draining), whereas the higher levels are anabolic (constructive and building). "Right away, I learned so much about the power of the individual and the role of our energy and thoughts in creating our own world and reality," Simmonds describes. iPEC and tools like the Energy Leadership Index (ELI), an assessment that helps people understand their perceptions, attitudes, behaviors, and overall leadership capabilities, radically changed everything for Simmonds—and gave her that piece she had been seeking.
She continued in her Master's program—"I like to finish what I start," she says—and simultaneously attended iPEC. And worked full-time. It was a whirlwind, but Simmonds felt more alive during those months than she had in years. She finished iPEC in June of 2014, finished her Master's in the fall of 2014, and launched her coaching business, Bridgette The Go Coach, in December of 2014.
Even the original query that led Simmonds on the journey—the angst of pondering: Is this all there is?—she now sees as coming from an energy space where she no longer lives. "The biggest change is that I no longer see the world from a default position," she says. She is able to approach every situation, from the silly to the serious, with awareness. A classic example she often shares with clients is about running late for an appointment. "I left my neighborhood, turned onto the main street, and there was roadwork. I was so aggravated and became frustrated and irritated in my car. Prior to iPEC, I would have been irritated, with all that catabolic energy, and that would be the end. But after iPEC, I stopped in that moment and laughed at myself. I decided to be irritated, because that's how I wanted to be. But, I observed myself being irritated and noticed that it was a choice. Learning we have those choices can change everything."
Simmonds was recently chosen to be a lead trainer for iPEC, meaning she now leads the trainings she once took herself. She applied for the role because she craved being in the iPEC energy. "I want to be in this place that attracts people who are willing and wanting to grow and expand their lives and the lives of others," she says. It's no longer a matter of it being all there is—because now, it's everything.
***
"Vulnerability is where the magic happens."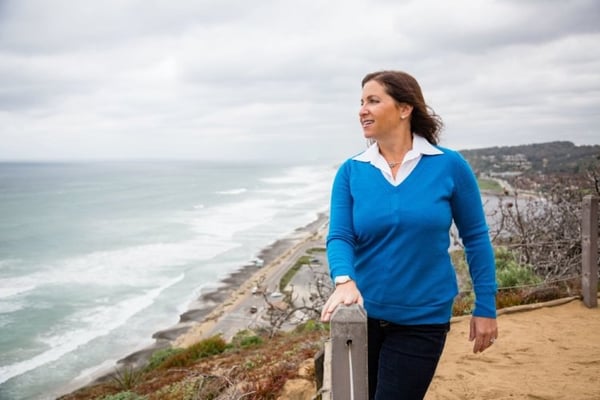 "iPEC was there to help me open my eyes to things I never would have seen," says Andrea Kao, owner of Run to 1 Coaching. She went through iPEC Coach Training Program in 2012—though it had taken her a good five years to make the decision. When the company she had been working for decided to move their headquarters, she opted not to go. It was the opportunity she had been waiting for to change careers (she had been running an "ethics and business" program for a defense contractor for more than a decade).
When Kao started iPEC, her whole purpose was to help others. "I was very comfortable with who I was, very comfortable giving advice, and always thought I had the answer," she says. Midway through the program, something happened. After class one night, she went outside to find that her tire was flat. The class instructor came out of the building just as Kao was trying to change the tire. The instructor started to help her. "I kept telling her, 'I don't need your help' and, 'you'll ruin your suit,' but she stayed anyway. I kept thinking things like, she doesn't need to help me... I can't believe she's doing this... why would she stay to help me with changing my tire? I've got it, I can do it," Kao remembers. On the drive home, she reflected on the experience, "I realized that she wasn't letting me say 'no' to help and that I do not like looking vulnerable and weak like I can't handle something. I have to be in control. That was a real aha moment for me."
The next day in class, Kao pushed herself to take advantage of the opportunity the instructor gave for someone to stand up and tell about their biggest fear. "I was sweating and shaking the entire time," she says. But Kao made herself confront the fear of not being in control. Of being vulnerable. "Judgment and control go hand in hand. Vulnerability is where the magic happens," she remarks. That small moment of being vulnerable was a huge breakthrough for her. Looking back, she doesn't know how she could have ever gone on to coach people without experiencing that, because one of the biggest things she does now, as a coach focused on helping people achieve wellness and fitness goals, is create a safe space for people to be vulnerable. Andrea adds, "When they take that risk with me and feel completely safe and encouraged (as opposed to judged and punished, like they've done something wrong)... when all of that goes away, it's such a breakthrough moment. That's how they move forward beyond whatever block they have."
***
"Energy attracts like energy"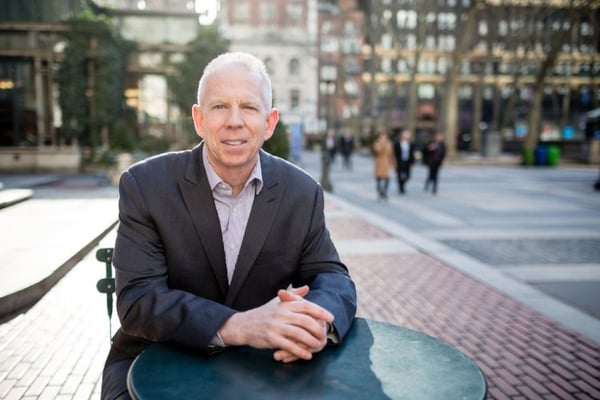 If iPEC had a magic sauce, it would be composed (or concocted) from this idea of energy. In fact, energy is the common language that graduates learn to speak. And, that's the language that is changing the world, one conscious choice at a time.
Circa 2007, Michael Timmes attended a presentation by iPEC founder Bruce D Schneider at a human resources conference. Schneider, also the author of Energy Leadership, spoke about the 7 levels of energy. "I was enamored by it," says Timmes, who had spent 20 years working in HR. The idea that we either bring anabolic energy or catabolic energy to every interaction changed the way Michael thought about his job and his life. He also saw the potential of using Energy Leadership in the field of HR.
A few years later, Timmes realized he was going to be part of a reduction in force at his company (a financial institution). As he thought about next steps, something drew him back to the book he had purchased. He reread it, reached out to iPEC, and went through the program in 2010. Timmes knew he wanted to stay in the field of HR; but, with his iPEC certification, he brought a whole new set of skills with him. "I wanted a job where I could bring that concept of Energy Leadership," he relates. In one particularly promising interview with an organization that provided HR for smaller companies, the interviewer asked him what differentiated him from other candidates. "I started telling her about iPEC, and Energy Leadership, and the difference I thought I could make," Timmes says. "She turned to her bookshelf, plucked off a book, and said, 'you mean this book?' She was holding Bruce D Schneider's book."
Timmes got the job.
"Energy attracts like energy," Timmes says. On one hand, it's a simple concept: send positive energy into the world and it's returned to you (and vice versa). In fact, there is a Rumi-esque quality to much of Energy Leadership, and the centuries-old idea that what you seek is seeking you. As Timmes observed, however, it's far more than a lofty quote for a Pinterest board. In fact, he's convinced that teaching people about the different levels of energy is the key to employee engagement, especially considering the latest data shows that only about 30 percent of the workforce is engaged.
One of the major things that keeps people disengaged is conflict. Timmes can take a manager or an employee through basic Energy Leadership tenets relatively quickly, which helps the person gain perspective on the situation at hand and see it a different way. It's often that simple: seeing that another response is possible. That ability to place yourself within the energy levels, to channel your consciousness about the energy you are bringing to any situation—that alone can completely change the dynamic of an individual relationship, and gradually, the culture of a company.
Michael Timmes doesn't have his own coaching business. He's chosen to stay in the corporate world because he sees the value he can contribute. As iPEC graduates have learned, there is value to be added everywhere, in every industry. The tools, exercises, and processes that iPEC teaches work on so many levels, with so many people, in so many industries. In reality, iPEC coaches go on to affect people in areas ranging from parenting to relationships to wellness, and in industries across the board.
***
"I don't just DO coaching. I AM this positive energy."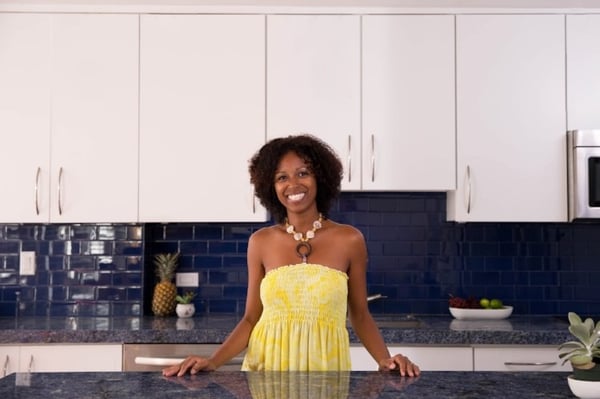 Natasha Lindor was helping companies develop leadership engagement programs. She was good at the work—so good that the next rung up would be VP level. It would mean a promotion and a salary increase. But, nothing about that potential lit her up.
What lit her up was thinking about her experience with a coach. "About six years before, I had been single and was looking to get into a relationship. I hired a coach to help me, and immediately realized how out of alignment the different parts of my life were," Lindor says. She wound up finding her soul mate and getting married. She also brought the skills she learned from her coach to her corporate job. However, there were limits. "The coaching I did around helping people make decisions wasn't getting into personal values and mission," Lindor relates. She wanted more, and after researching, she understood that iPEC was the place to get it.
She had intended to stay in her job, because it seemed the clearest path to success. But, something shifted for Lindor when she began iPEC: she learned to embrace the sense of "and"—the idea that you can be happy AND successful at the same time. She was a high achieving woman—much of it shaped by the fact that her parents immigrated to the U.S. from Haiti. "There is something about being the child of an immigrant. It seems that so often, your parents are super educated and successful and they push you to do the same, or the flip side, they came here because they wanted something better for their kids, so you feel the pressure."
Lindor followed her gut and decided to start a coaching business after graduating iPEC. She named it The And Factor. "I tend to work with professional women like me, often the children of immigrants--women who are success oriented and have been taught that you follow the path your family or culture taught you. They do everything they are supposed to do, but don't feel personally successful."
Lindor has helped numerous clients develop their "and" factors—their personal success formulas. But, it wasn't until more recently she did some more "and" work of her own. She had created a new career, but she and her husband were tired of the harsh Chicago winters. Could she be a successful coach AND love where she lived? After one particularly brutal snowstorm, the couple decided to move to Hawaii, without knowing much about the area. "I had a vision of what I wanted," Lindor says. She used guided meditation audio recordings from iPEC to help visualize what she wanted to manifest. "Everyone kept saying we were crazy to move there! They told us how expensive it was, how hard it was to find housing. I kept saying, 'These people don't know that I have energy on my side.'"
Within a week of moving to Hawaii, Lindor and her husband found the perfect place on the water, with amazing neighbors and a wonderful sense of community. "It's the true aloha spirit," she says. "Living this way, in this energy—it's become my way of being. I don't just DO coaching. I am anabolic. I AM this positive energy."
***
"These tools are so teachable."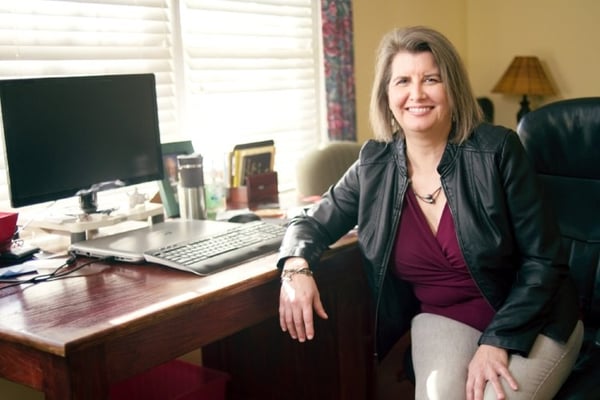 When Diane Dempster started coaching, she thought her niche would be dedicated to helping women find work-life balance. "My message was all about how to be the best you can be at work and still leave something for your family," Diane recalls. A wife, mother, and business owner, it was a message that resonated for her.
Soon after she started her business (she graduated iPEC in 2010 and launched in 2011), she ran into another coach who specialized in working with parents. "We both agreed that when we became coaches, the way we interacted with our kids and our families on the whole really changed in a positive way," she relates. "We started talking about our experiences, and specifically, the gaps in supporting parents of kids with ADHD as well as other issues. Between our families, we had six kids with ADHD. When we became coaches, we became the kind of parents we needed to be to help our kids be successful."
What if she could help other parents do the same? How might that change the lives of countless families?
Dempster relaunched her Atlanta business and named it ImpactADHD, with the goal of supporting parents raising "complex" kids. Dempster had come from a public health background, and she understood that the medical model for supporting families who have kids with chronic conditions has its limits. "The traditional doctor's office doesn't have the bandwidth to support these families," she declares, "Coaching is an efficient and effective way to fill in the gaps. Parents need more than medical support. They get a lot of information, but coaching helps turn information into action. These tools are so teachable." That's exactly what she does: coaches parents and teaches parents basic communication tools—and she now does it all over the world.
***
"I want to help women regain some sense of control over their lives."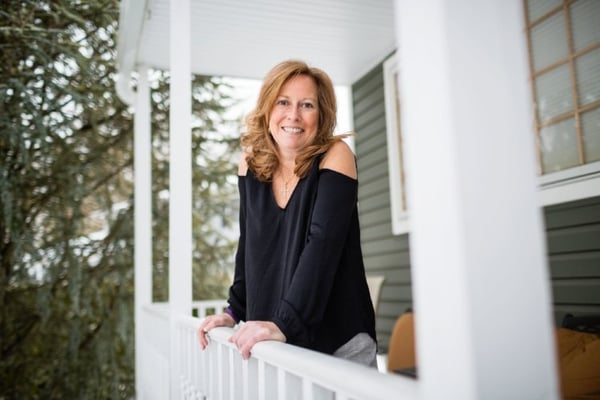 Dempster is not the only one out to use coaching to fill in gaps in support in the healthcare system. Gina Costa-Goldfarb is doing for breast cancer survivors what Dempster is doing for ADHD families: teaching them tools they're not necessarily getting from their traditional medical support team. Costa-Goldfarb is a breast cancer survivor herself (after a double mastectomy, she is now cancer free). Fourteen years ago, she watched her mother die from the disease. Her sister has also been diagnosed.
"Cancer was just part of my vocabulary," says Costa-Goldfarb, who has spent 30 years in the legal field (she currently runs her own paralegal business). Along with her personal and family experience with breast cancer, she has been heavily involved in raising money for breast cancer treatment and awareness. But, after graduating from iPEC in 2014 (an email from a friend got her interested in iPEC and she was smitten from the get-go), Costa-Goldfarb knew immediately the kind of coaching she wanted to do: working with breast cancer survivors.
Costa-Goldfarb started New Beginnings Coaching Services on the heels of her own recovery—because she saw the difference that the tools she learned at iPEC made. "I wanted to go beyond fundraising and collecting money, and really find a way to help women battling breast cancer regain some sense of control over their lives. It's not only about the cancer experience, because it affects all areas of your life. How you show up in any situation is how you show up in every situation," she confirms.
Like Dempster, Costa-Goldfarb sees that the coaching tools translate so well to helping people through the cancer experience. She is building her coaching business, while still running her successful paralegal business. She has a grand vision though. "I want to be in a hospital or breast cancer center and work directly with people. The healthcare industry is slowly recognizing coaching as a resource. Give me an office. Let me show you what I can do for these women," she says.
***
"Coaches can move you forward because you feel that accountability."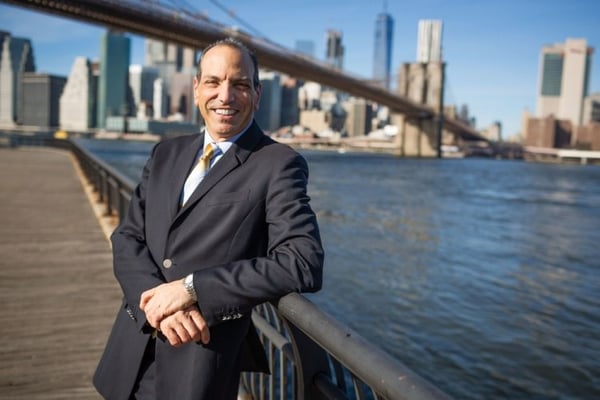 One of iPEC's real strengths is that it helps students take the tools and apply them broadly. Martin Salama, owner of Your Divorce Recovery Coach, is yet another example. When his wife asked for a divorce, it threw him into a major depression. He tried therapy, which helped some. But, it was going through the iPEC training—particularly the peer coaching—that got him through. "When I was getting divorced, I had a problem accepting that we were both at fault," Salama reveals. Through tools like the Energy Leadership Index Assessment, he began to let go of that victim energy.
Coaching also helped him feel accountable for his actions and decisions. "Coaches can move you forward because you feel that accountability," Salama says. In a divorce situation, shifting and moving forward is everything. Salama started by giving talks at post-divorce "singles" groups. Quickly realizing that these tools could make a huge difference for men and women going through a divorce, he enrolled in iPEC not knowing where his coaching practice would focus—but by the time he graduated, Salama knew exactly who he would work with.
As an organization, iPEC wants to increase the consciousness of the world—one person at a time. It's tempting to follow the noise, and focus on the big numbers—on the coaches who have built large-scale coaching businesses, with tiers of engagement and live events. Those are tremendous stories. But, so is the smaller story that happens one person at a time—and becomes the larger story.
Michael Timmes thinks of it this way: "Let's say you have department of four people," he says. "Each of those four people brings to work the life experiences of their two parents. So, when a conflict arises, you may have a person who avoids it, a person who yells about it, a person who plays both sides of the fence, and a person who gets quiet and talks behind people's back. But, it's all conflict," Timmes states, "and none of it is productive." "But think about if just one of those people has a higher level consciousness, a higher level of awareness of their own energies and their blocks, limiting beliefs, and own inner critic. If just one person makes even a one-millimeter shift, that can go a long way to improving a work environment," he suggests. Perhaps they bring that shift home as well. It changes who they are in a relationship, and as a parent or friend.
That one-millimeter shift effects each life that person touches. It's one person, in a department of four. One way to look at it is that the stakes could not possibly be smaller. The other way to look at it is that the possibilities are infinite—all from one person and one millimeter.
iPEC teaches people to look inward to discover the truths that change how they look outward. The school's graduates are working together—sometimes literally, but more often, figuratively—to raise the consciousness of world. This movement impacts every aspect of who we are being—how we talk to each other, love each other, do business with each other, and raise our kids. Person to person to person, these ripples of expanded consciousness extend, meeting up with one another, and extend even further. Every foot, every inch, every millimeter matters, because it moves the mission forward that much more. ☐

By Judi Ketteler
Judi Ketteler is a writer living in Cincinnati. She writes for a variety of publications including the New York Times, The Washington Post, Runner's World and SELF Magazine.