See, no matter where you're at in your coaching journey, there's going to be a point when you have to step out and really put yourself out there as a coach. Whether you're an entrepreneur starting your own coaching business or an HR professional coaching your employees, trust me, it's going to happen.
When it happens, sometimes it can feel great to stretch yourself out of your comfort zone, and you want to celebrate with your peers. We've got your back on that—cheers to you, awesome job!
And other times, it can feel uncomfortable . . . and not so great. You may lose your confidence, feel unsure about your path as a coach, and may even feel stuck. It can feel lonely, and even a little embarrassing. (I'm a coach, why do I feel this way?!?) So you just stay stuck and small.
When it happens, we've got your back on that, too. It makes sense you are feeling that way, and we've felt it before and can relate. You got this!
All of those little coaching "celebration moments" that you'll experience are wonderful to share in a community. But even more so, it's all the not-so-fun moments that make being a part of a community like ours REALLY important.
We're all coaches. JUST. LIKE. YOU.
And when you enroll in iPEC's Coach Training Program, you're immediately a vital part of our Coach Community.
In addition to all of these amazing qualities of our community, we have the iPEC team of trainers, sup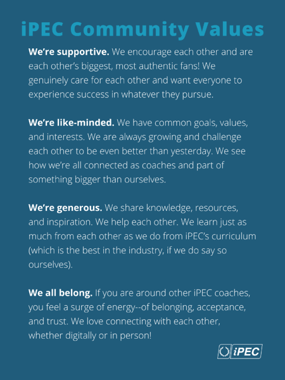 port staff, mentors, and Success Coaches to help guide us on our journey.
Plus, the iPEC Community team provides ongoing resources and education opportunities even AFTER we've graduated from the Coach Training Program. The Community team is always available for support and thoughtfully asking:
How can we learn more from each other
How can we support one another through events and local gatherings?
What are the best tools, teachings, and areas where we can add the most value to you on your coaching journey?
If you're ready to jump in and be a part of a coach community that is ready to support you no matter what, contact an Admissions Coach today to explore enrollment options.