---
by iPEC Team
Oct 05, 2023
|
3 minutes read
---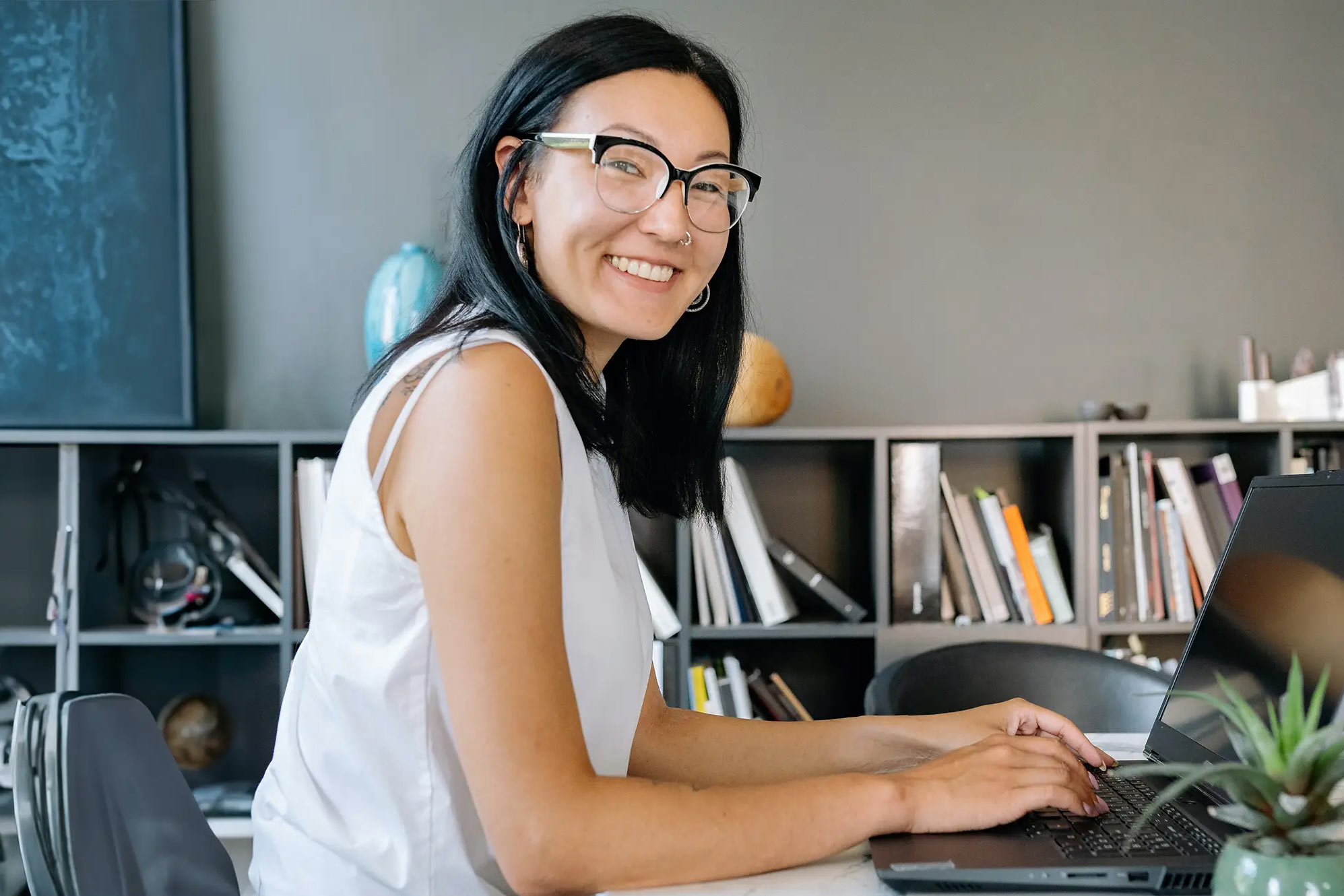 If you've ever contemplated a career as a professional coach, or if you're currently enrolled in a certified training program like the all-inclusive one offered by iPEC, you're part of a transformative movement that's sweeping the world. The coaching industry is not only growing—it's thriving like never before!
The demand for life coaches is soaring, and the impact of coaching is now being felt in every corner of the globe. So let's dive into the heart of this phenomenon and explore the life coaching statistics that underscore the growth of the coaching industry.
An Exclusive Look at Life Coaching Industry Statistics (They Might Surprise You! 😲)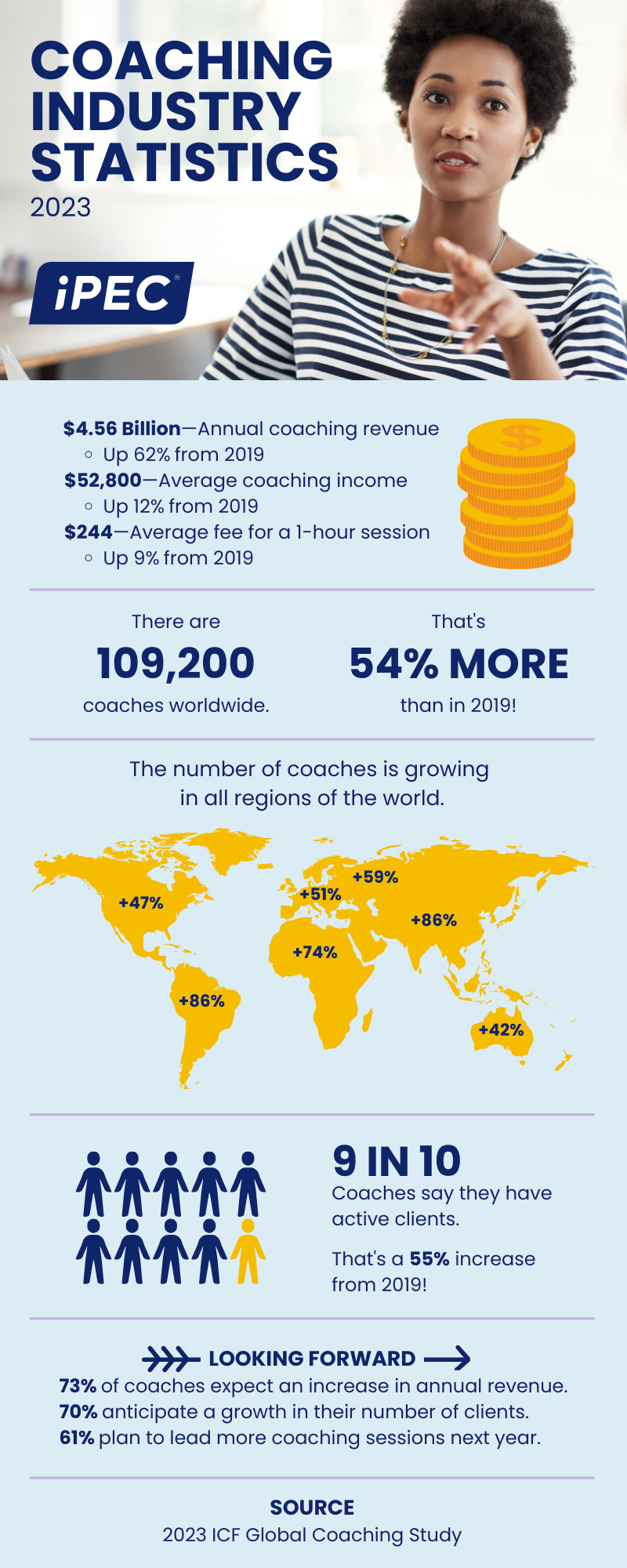 Inspiring Success and Impacting Economies
The financial success of coaches is evident, with the average annual income of a coach reaching a record high of $52,800. This reflects a remarkable 12% increase from $46,464 in 2019—and it could be significantly higher depending on where you live!
And if that trend isn't promising enough, there's more. The average fee for a one-hour coaching session has also risen to $244, up 9% from only a few years ago. This financial growth is a testament to the value that coaching provides and the recognition of certified professional coaches as powerful agents of change.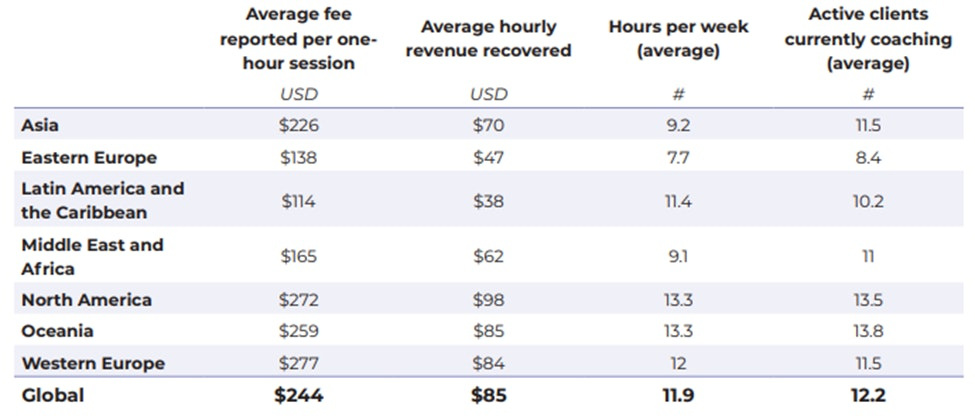 Table courtesy of the ICF 2023 Global Coaching Study
What's great is that the coaching industry's impact is not only personal—it's also economic. In 2022, the coaching industry generated a staggering $4.564 billion in annual revenue and income. This represents a jaw-dropping 62% increase over the estimate from 2019. This economic growth isn't just about the industry, it's about the individual coaches who are thriving within it.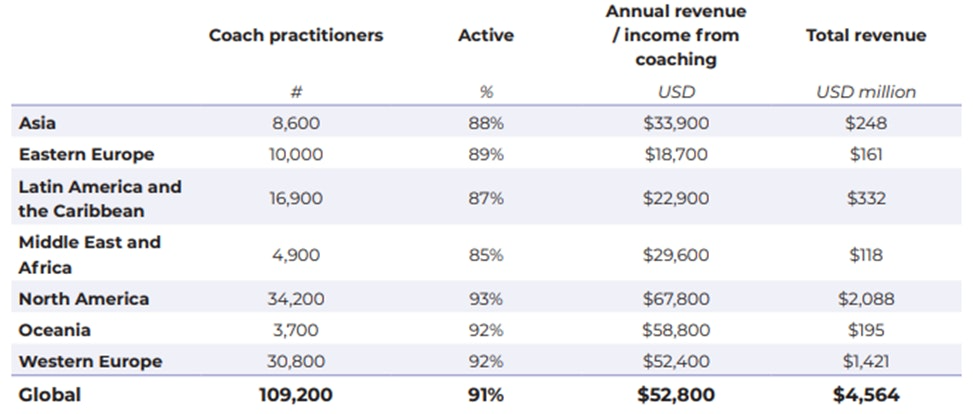 Table courtesy of the ICF 2023 Global Coaching Study
Coaching Around the World: A Global Movement
Imagine being part of an industry that has witnessed an astounding 54% increase in the number of coach practitioners worldwide since 2019. That's right—the coaching industry is booming, with a current total of 109,200 coach practitioners transforming lives and empowering individuals in their communities and organizations across the globe.
This surge in coach practitioners isn't limited to one specific region either—it's a worldwide phenomenon that's transcending geographical boundaries and cultural differences.
The statistics paint a vivid picture:
Asia: Witnessed an incredible 86% increase in the number of coaches
Middle East & Africa: Experienced a remarkable 74% growth
Eastern Europe: Enjoyed a 59% surge in coach practitioners
Latin America & The Caribbean: Celebrated a 54% rise in coaching professionals
Oceania: Demonstrated a strong 42% growth
Western Europe: Boasted a substantial 51% increase
North America: Showcased a remarkable 47% growth
These coaching industry trends not only highlight the global reach of coaching but also underscore the growing demand for coaching services in diverse cultures and societies.
Growing Opportunities (and Expectations 👀) for the Future
The demand for life coaches has never been higher, with an astonishing 9 out of 10 coaches currently saying they have active clients—a 55% increase from 2019! And it's not just about having clients, it's about the impact coaches are making. On average, each coach serves over 12 clients at any given time, indicating the transformative influence that coaching has on individuals' lives and careers.
While the present is looking bright, the future of coaching is equally inspiring. Of all the coaches the ICF surveyed in their 2023 Global Coaching Study:
73% expect an increase in their annual revenue.
70% anticipate a growth in their number of clients.
61% plan to lead more coaching sessions in 2024.
These coaching trends not only point to the optimism within the coaching industry but also reflect the growing recognition of coaching's impact across various sectors.
Ready to Leave Your Mark? Begin Your Coaching Journey with iPEC.
In an industry that's rapidly evolving and expanding, professionalism and certification are keys to sustainable success.
Case in point—a staggering 80% of coaches report that their clients expect them to be certified. This is further reflected in the fact that 85% of coaches currently hold a professional coaching certification, according to the ICF 2023 Global Coaching Study.
This dedication to continuous learning and growth is a testament to the commitment of coaches to their craft and their clients.
When you become an iPEC coach, you'll earn not just one but three certifications. You'll also master the Core Energy Coaching™ methodology—where you'll gain tools and techniques to help your clients uncover (and understand!) their underlying energy levels, move through limiting beliefs and fears, and create choices in how they think and feel. Are you ready to take the first step forward?
As you embark on your journey to become a certified coach, remember that you're entering a dynamic and flourishing industry. Whether you're drawn to the diverse challenges individuals face, the complexities of leadership, or a specific coaching niche, know that your role as a coach is instrumental in transforming lives, fostering growth, and contributing to a brighter, more empowered future for individuals and organizations alike.
Embrace the incredible potential of the coaching industry, and let your journey be guided by the knowledge that your passion, dedication, and expertise have the power to change lives and leave a lasting mark on the world. The coaching industry isn't just growing—it's thriving. And you are an essential part of its ongoing success story.