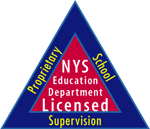 The New York State Education Department/Bureau of Proprietary School Supervision (BPSS) has strict protections in place (to ensure you'll receive a quality education and develop the necessary skills to secure meaningful employment).
So strict, in fact, that iPEC is the only coach training program to have met these standards. To apply for our program in New York State, there are a few unique considerations to keep in mind.
The State of New York requires you to provide one of the below acceptable documents, prior to enrollment:
Copy of high school diploma
Official high school transcript showing a graduation date
Copy of High School Equivalency Diploma or GED
Copy of associate's, bachelor's, master's, or doctorate degree from an accredited college or university or official transcript indicating the same
If you reside in a country outside the United States and are attending the New York location, you will need to supply the equivalent documentation in English. You can learn more about this requirement and other forms of acceptable documentation here.
Additionally, New York State requires we collect the last four digits of your Social Security Number. When you're ready to enroll, there will be a place to provide it on your Student Enrollment Agreement.
Finally, as part of the enrollment process, you will digitally complete the Student Enrollment Agreement. However, on the first day of class, you will also be asked to sign this document in person as required by the State of New York.