---
by Simone Noordegraaf, CPC, ELI-MP | iPEC Chief Business Development Officer
Jun 12, 2020
|
3 minutes read
---
"The depth and breadth of what our students experience with experts and experiential learning is all first hand—when they're coming out of the gate, they are NOT novice coaches." — Joan Ryan, iPEC CEO
Wouldn't it be great if every training hour you needed for the highest level of coaching standards was available to you in one, single program? Continuing education credits can be pricey and unclear on how they relate to your journey as a coach. Plus, it can get complicated when trying to piece together several different programs to suit your unique coach training needs.
Thankfully, at iPEC, all of your coach training can be completed in one ICF accredited coach training program.
The iPEC Coach Training Program is the most comprehensive ICF accredited coach training program available. Of all the coach training programs out there, iPEC is the only program certified in 320 training hours—the level of hours required for a Master Certified Coach (MCC) credential with the International Coaching Federation (ICF).
But why does this matter to YOU? Why should you care about the level of hours the iPEC coach training program is certified in?
"Master Certified Coach is the top certification from the top credentialing body in the world. (It's a big deal!) We not only have the training to get you there, but we have graduates and faculty who have earned that credential. You're getting some of the best education in the world because of the wealth of knowledge and resources we offer our students." — Amy Everhart, Director of Design and Development
According to the ICF, an accredited coach training program (ACTP) is required to have at least 160 hours of credentialed training taught by certified trainers. The ICF reviews the curriculum, as well as the faculty, to ensure the submitted program adheres to their rigorous standards. The iPEC Coach Training Program contains 160 training hours in addition to many more hours of self-study content.
Think of the iPEC Coach Training Program as an undergraduate degree, where you learn through extensive, experiential training on how to coach anyone, anywhere, on anything.
---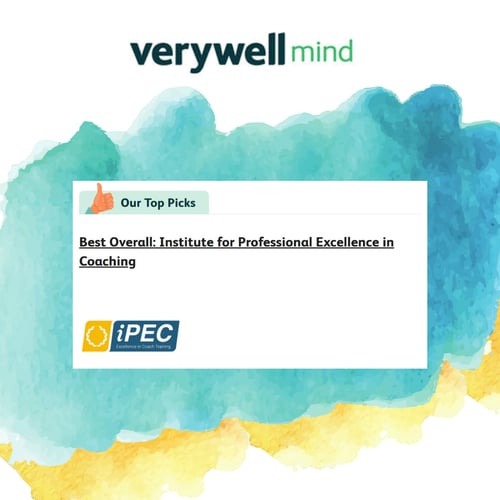 ---
But maybe you want to specialize in a certain area. So what do you do?
In the traditional education model, you'd go for your Master's degree.
This is where iPEC's COR.E Dynamics™, much like a master's level graduate program, comes in. Each of the four specializations within the COR.E Dynamics™ training is 40 credit hours. You can rest assured the high-quality ICF-accredited coach training program you experience in your undergraduate program will continue into this next level of your coach training journey.
By completing each of iPEC's four specializations, you have now experienced the full 320 training hours needed for your Master Certified Coach certification.
You'll get to focus your advanced expertise in one or more of the following key areas: Leadership, Performance, Transitions, and Wellbeing. These four topics are the cornerstones of any iPEC specialization or uniquely tailored niche. Through this extended deep dive into essential topics, you'll accelerate the growth of your practice and optimize your client outcomes and experiences.
Lisa Kaplin, iPEC Lead Trainer, shares more about how the COR.E Dynamics™ program best sets you up for success:
"Those extra hours of training are really above and beyond what's required so it gives our students extra training that coaches are often seeking after they finish their foundational training. Our COR.E training really pulls all of the students' learning together in that it combines both our theory and the 'how-to' of coaching and living."
Okay, okay. Numbers, statistics, and quotes from iPEC employees can only mean so much. What about you as a student of iPEC? How do you know this will be meaningful, valuable, and ultimately, worthwhile?
Simply said, the iPEC coach community has your back.
Our global community of nearly 15,000 coaches is full of those who have been where you are and are willing (and eager!) to help. They learned that in order to fully embody the ideals of a coach, you have to pass along what you learn.
iPEC Certified Professional Coach, Michelle Kuei, continuously takes advantage of the incredible continuing education opportunities offered to iPEC coaches. When asked how the program is beneficial to her and her coaching practice, she said, "Learning the material helped me to understand the 'how-to' rather than just 'what is?' This program teaches practical tools that I use with my clients."
Michelle knows what it's like to have finished your program and, just like someone who's recently graduated from an undergraduate program, been a bit unsure of what to do next. So she's leaned on iPEC.
"The program allows me to continue and maintain my connection with a community of iPEC coaches. Being a coach after graduation can be lonely at times . . . Being able to connect with other like-minded people provides me with a great opportunity to learn from and connect with them."

How else does iPEC set you up to succeed as a professional coach?
At iPEC, we always aim to help you feel confident, prepared, and supported in your coaching journey.
In fact, iPEC has developed a unique process that goes deep into uncovering inner knowledge gaps and cultivating new perspectives which support individual success on a sustainable level. We call this Core Energy Coaching™.
With Core Energy Coaching™ techniques and tools, you'll support your clients as they establish and achieve new goals, raise their level of consciousness, and open up new possibilities that were previously hidden from sight. This is how people step into new versions of themselves, make connections, become catalysts for culture shifts within their workplaces, and increase the joy and positivity in every aspect of their lives.
By being the only coach training school to offer 320 training hours, a proprietary, research-backed tool in Core Energy Coaching™, and a coach community of thousands of supportive, certified coaches, we can confidently say iPEC is the best ICF accredited coach training program available.