Picture this: You're feeling fulfilled in your work and making meaningful connections with people you actually like every day. You've got the freedom to choose your own schedule, the resources to design your own path, and the opportunity to earn an income that supports your ideal lifestyle. Maybe that sounds like a pipe dream. Or maybe it's your future as a certified professional coach. If you're elbow deep in research about which professional coach training program is the best one to help you achieve this future for yourself, you've probably got loads of questions on your mind. It's true what they say: NOT all programs are created equal. Even more important: NOT all programs can meet the unique needs of YOUR particular journey. So, how do you honor your calling as a professional coach and find a training program that will help you excel both personally and professionally? We've got a few insights to share. Don't Lose Sight of the Forest for the Trees The best professional coach training options go well beyond the courses themselves. Yes, you'll no doubt be concerned about details like the institution's accreditations, mentor availability, and modes of training delivery. These are critical to your decision-making process. However, you should also be expanding your perspective and getting a better look at the big picture. You know you have a deep-rooted desire to help others, but maybe you haven't taken time to think about considerations like a potential specialization, how you'll eventually price your packages, what your unique marketing position will be, and how you'll differentiate yourself from the competition. That's not to say that you should have all these elements figured out, but rather that you should identify training opportunities specifically designed to support you in navigating these areas of your journey. Think in Terms of Building a Solid Foundation Becoming a professional coach is about more than reading up on the literature or learning from a lecture. Your training program will serve as the foundation for your future, so you'll want it to be strong and supportive. There are a myriad of reasons why clients will seek out someone like you to help them overcome their own obstacles. Are you choosing a foundation that focuses on methodologies and practices aimed at helping you serve those clients to the fullest? Consider whether your choice of coach training program is rooted in developing the mindset and skills to help your clients sustainably shift the self-limiting thoughts, emotions, and beliefs that are holding them back. In order to provide meaningful coaching, you must learn how to perceive the depth of each client's situation, evaluate potential approaches, and support others in making the best use of their own strengths and individuality. You already possess a specific set of innate talents and skills (just by being you!). Understand that the right professional coach training program has the power to further enhance and refine these capabilities. Your foundation should equip you with both the formalized skills and training you need to succeed, and the tools to support your clients in making positive, life-changing transformations. Identify the Tools to Augment and Refine Your Craft While gaining a strong foundation of coaching mastery will serve you and your clients well, you might also change and evolve through the coach training process, especially if you choose a program where you're coaching your peers, being coached by them, and are truly immersed in the coaching process all along the way. As you grow to become a coach, you might discover a hidden entrepreneur inside who wants to work from anywhere in the world. You could uncover that you're highly passionate about self-growth and personal development. Maybe you'll want to engage professionals all the way up the corporate ladder or create a coaching environment in an existing workplace. Regardless, everyone has their own version of success and fulfillment, and sometimes that clarity brilliantly unfolds over time. That's why your ideal professional coach training program should provide you with lots of options, including niches to explore and types of career-building approaches you can draw upon in order to discover what appeals to your soul. Having the resources to navigate your own path as a professional coach is as important as having the knowledge of specific coaching techniques. When your active learning time with the school has finished, will you be left with a lot of knowledge but no know-how? Will you be able to draw on a wide selection of resources, templates, assessments, mentorship opportunities, and avenues for additional support? Consider the value of a program that provides you with not only the skill set you need to handle particularly challenging situations, but also a range of acquired tools to tackle unique, and nuanced scenarios as they arise along your own personal journey. Explore the iPEC Difference As you continue your research, one of the things you may notice about iPEC's program is that there's no online purchase process. Wondering why? It's simple, really: We want to get to know you better first so we can ensure that iPEC is a good fit and that you're in the right place to take your career to the next level. In our coach training and certification program, you're much more than a student. You're an individual, whose background, trials, and experiences have shaped you and led you on this path. In fact, your experiences have prepared you perfectly for these next stages in your life and career—and the way you'll transform others' lives. Even our application is designed as a coaching exercise, to finally help you cement your decision to move forward with confidence. When you're ready, we invite you to take the next step and learn more about how fulfilling the world of professional coaching can be. With iPEC, you'll gain access to a broad range of coaching specializations to help brand yourself and grow your niche. In addition, you'll benefit from the support of one of our coaching mentors, a proven professional to work with you one-on-one across several sessions to further refine your unique coaching skill set. Our curriculum and offerings are designed to prepare you fully for your future as a coach. This is your opportunity to create a new, fulfilling path for yourself. You CAN build the foundational skills to see your coaching career thrive. You CAN discover the joy of being in perfect alignment with your innermost calling. You CAN be the director of your own future. You need only to make the decision to get started and to honor your vision with a training program suited specifically to attain it. Take the next step by having a one-on-one conversation with one of our Admissions Coaches to discuss your future as a certified professional coach and gain clarity on these exciting new possibilities in your life and career. Schedule Your Conversation
The famous and brilliant Albert Einstein once said, "Time is an illusion." For most of us, however, time is a precious commodity. And when you're stuck in a job that doesn't bring you fulfillment or joy, it can feel like every minute is an eternity. That's why one of the greatest concerns for prospective coaching students is how long it will take to complete a training program and earn their certification. We get it: You're out there thinking about the future and wondering just how close you are to the goals you see in the distance. As you plan ahead, consider all the factors, and get honest with yourself about whether the journey toward becoming a professional coach is the right one for you; it's only natural to question the amount of time it'll take to make your dream a reality. So you might not be terribly thrilled to learn there's no one-size-fits-all answer to this question. The truth is coach training programs vary tremendously in the amount of time they require for completion. Some involve just 30 hours of training over a few days, while others take more than 300 hours over the course of several months. The good news is you can choose the path that's best for YOU. If you stop and consider it, you're likely to find that this time component is a helpful distinction in terms of selecting a program that supports you to the fullest. The actual duration of a program can often be an important clue as to the quality and comprehensiveness of the training itself. Remember: As a professional coach, your clients will be relying on your support. You want to be certain that you're not only properly prepared to stand in those "important shoes," but that you feel confident in your professional coaching skills and abilities. Ultimately, you are dealing with real people in real-life situations, and it's vital to develop enough professional acumen to both apply effective coaching practices AND understand when specific client challenges require more specialized care from medical and/or psychological practitioners. Think about the time and effort afforded to learning and training needs in many other professional industries, such as accounting, law, education, medicine or technology. The more hours spent acquiring knowledge and gaining hands-on experience in a specific skill set, the more qualified and effective a professional becomes in their particular craft. The same is true for coaching. That's why it's often more valuable to look beyond the question, "How long will it take?" and ask yourself, "How thorough is the training I'll receive, and how do I fit it into my life?" Keep in mind there are opportunities for you to enroll in training while you work a full-time job, and you can even attract paying clients before you complete a program. This is especially true if you've invested in one that focuses a substantial portion of time on providing you with the business development and marketing training to get you started on the career path that's best for you. Don't let time hold you back. With the all-too-familiar challenge of balancing family, full-time work, health, home maintenance, and life, "I don't have enough time," is a common (and incredibly understandable!) concern of people who are hesitant to commit to professional coach training and certification. It often becomes the reason to walk away from a life-changing opportunity. And honestly, there can be deeper mental barriers hiding under the surface. When we're afraid to change our status quo, we latch onto the stories we tell ourselves. In terms of coach training, these stories often sound something like: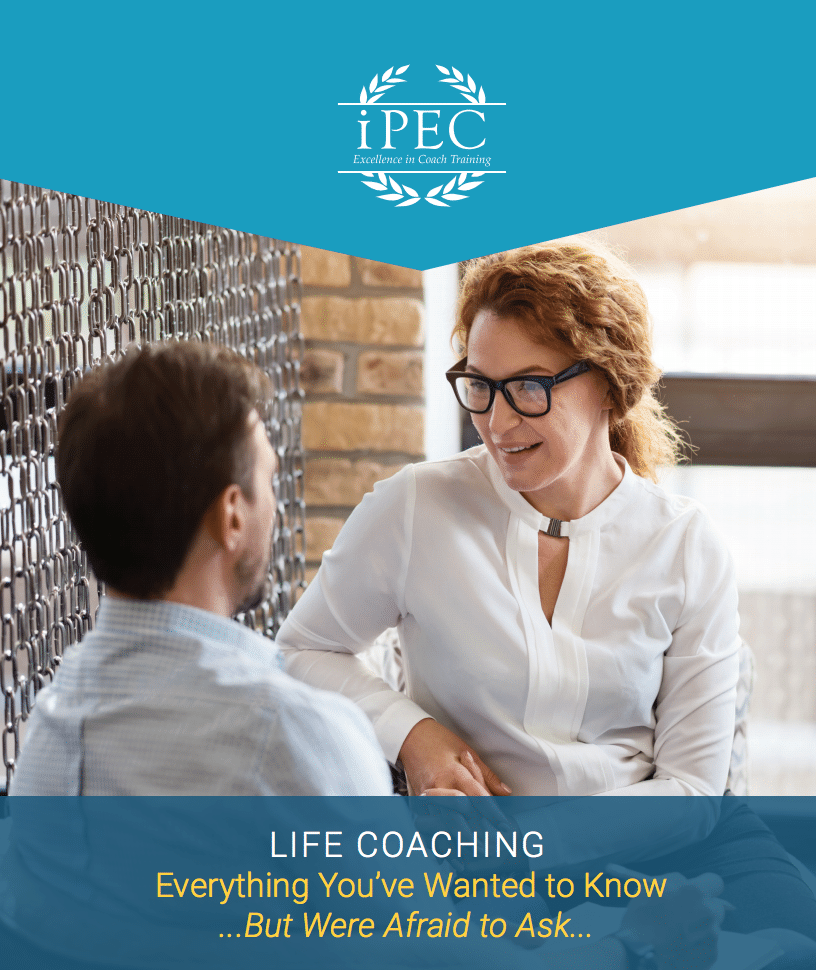 LIFE COACHING: Everything You've Wanted to Know (But Were Afraid to Ask)
Subscribe to the iPEC Blog and discover how you can help people make profound and lasting shifts in their lives.
Close your eyes and picture your ideal coaching client. Is it a new mom looking to return to work after maternity leave? A young tech executive that wants to reach the next level in their organization? A couple looking for ways to heal their relationship? Someone struggling to adjust after an illness or reach specific health goals? An up-and-coming manager or team leader striving to improve corporate culture? Or is it simply a blank in your mind?
Each day you face thousands of choices… and each one holds the potential to unlock an infinite chain of possibilities in your future. Researching Leadership Coaching Certification and Executive Coaching Certification while you're on the clock are certainly choices that set you up for a new and exciting future. Sometimes, the smallest step, intentional or not, creates the most significant results in your life. Take Gwyneth Paltrow's character in Sliding Doors, as an example.
Does your age really matter when it comes to coaching others? I talk to many potential students who are afraid they are "too young" to be taken seriously as coaches. On the other end of the spectrum, I hear from older people who are nervous about being seen as irrelevant and out of touch with current society. Conquering age-related fear is often one of the many self-imposed hurdles students face when they are weighing the decision to become a life coach. But truthfully, age is one of the least important factors when deciding whether to enroll in coach training—for a number of reasons.
Feeling the itch to change your career? You're not alone! A recent study from LinkedIn claims that the average person changes jobs 3-4 times in the first ten years after college graduation. An ordinary job switch probably isn't that scary, but a full-on career change can fire off a serenade of internal "DANGER DANGER" warning bells. Conventional wisdom says it takes time (and plenty of savings) to get the training and education required to jump the established career path in favor of starting a business.