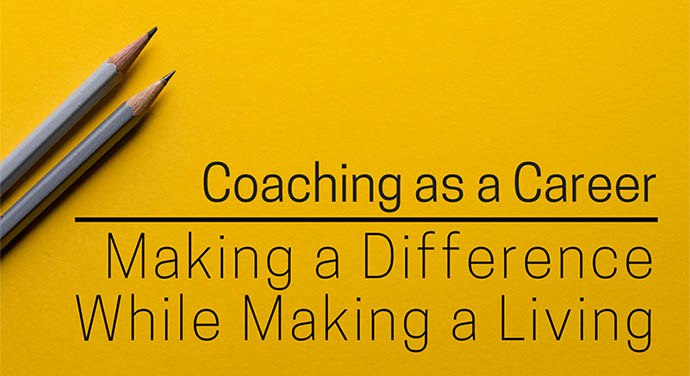 Coaching as a Career - Making a Difference While Making a Living
Many people don't believe in the adage, "Do what you love and the money will follow," and, consequently, they spend years in unfulfilling jobs.
They know, deep inside, that there is more to life (and to work) than what they're currently doing, but they don't believe that they can actually make a living doing something they REALLY love to do.
Those drawn to coaching have a passion for people – an innate desire to see individuals achieve results; a drive to help, motivate, and inspire people. Individuals drawn to life coaching experience a deep sense of satisfaction when they're able to make a positive difference in people's lives and careers.
A career in coaching allows you to do exactly what you love to do and what you're naturally good at, all while making a great living. Professional coaches see coaching as the ultimate "win-win" situation… helping others achieve their goals by working in a meaningful, purposeful, and lucrative profession.
The fact is you CAN succeed at almost anything – IF you are willing to devote enough energy and attention to it.
It's not that doing what you love guarantees success; rather, it's that true success will almost certainly require doing what you love.
The real questions, to ask, then, are:
"How can I be sure I will have enough passion and energy to succeed and really have my coaching career make a difference?"
and:
"Will this new coaching career support the life I really want to be living, and help me make the difference I want to make in the world?"
The answers to these questions lie in constructing your coaching career so that it fully serves who you are. It needs to provide the right balance of fun, freedom, and financial reward.
In fact, balancing those aspects of your coaching career is the key to making a difference, while making a living!
---
A Career in Coaching – Is it viable?
Viable (adj.): having a reasonable chance of succeeding, financially stable [syn: practical, feasible, workable, executable]
Over 1.5 million searches are conducted online each month by individuals and companies looking for life coaches, business coaches, and executive coaches.
It's viable! In fact, over 85% of iPEC students have paying clients BEFORE they even graduate. Why? Because incorporated into iPEC's Accredited Coach Training Program is quality time spent on business development, branding/messaging, and marketing. We understand that learning to coach and learning to market yourself requires two very different skill sets and processes. For the most part, those interested in becoming a life coach are also attracted to the opportunity to work for themselves. Hence, you're not only training to become a coach–you're also becoming an entrepreneur! We integrate an extensive business development program within the core coach training so that you can become EXTREMELY COMFORTABLE and CONFIDENT talking about coaching and your services.
"This is the career I wish I knew about years ago. Making a difference, while making a living … what could be better!" –

Jeanne S.
Coaching in the Corporate World
Life Coaching as a solo entrepreneur is certainly appealing to some people – but it's not for everyone. It's good to know there are other options you can consider.
With the growing acceptance of coaching in the corporate world, there are many ways to bring life coaching into an existing organization or use life coaching skills in your role as a leader, mentor or outside consultant.
Internal Coaching
Organizations of all sizes and in many industries use coaches. They recognize the measurable benefits of providing professional coaching to their key executives, top performers, and those upcoming with high potential.
With budget money already in place, many organizations are creating internal coaching positions to get even more value for the dollars spent. Armed with industry specific experience, the internal coach can be extremely effective in helping clients with their needs.
Though there may not be existing plans for such a role, what if you proposed the idea? A review of recent studies on the ROI of coaching might prove appealing enough to drive the conversation:
The Case for Corporate Coaching
Coaching has become a standard tool to develop leaders and increase employee engagement. Companies find the ROI attractive, too.
21 to 40% of Fortune 500 companies utilize Executive Coaching as standard leadership development for elite executives and talented up-and-comers. [Source: The Hay Group]
Individuals increase their productivity by an average of 86% when training is combined with coaching, compared to just 22% with training alone. [The Personnel Management Association, internal report]
For every $1 invested in Executive Coaching, companies surveyed received an average return of $7.90 [MetrixGlobal LLC]
Leader/Mentor/Coach
Coaching terminology aside, the hallmark of a good leader is to ask more questions than one answer, and listen more than instruct. This is the subtle difference between managers and true leaders – they encourage their people to ask better questions and then find their own answers.
A mentor does this as well – rather than just pointing the way, they draw upon their own experience and wisdom to help a junior person learn how to find their own direction.
Long before coaching was defined as a field, the great leaders and mentors were already employing many of the same methods coaches have refined – they just didn't have a title for it.
So perhaps you don't need a title either. Maybe coaching embodies the set of skills that will propel you forward as you bring out the best in the people who report to you. And, perhaps by modeling that set of skills, you will have an influence from the top down.
Consultants
One of the vital skills a consultant must have is determining what a successful engagement will look like. It requires helping clients get very clear about their objectives so you can scope out exactly what the project entails. After all, how else will you know when you've succeeded instead of just billed a lot of hours?
In addition, consultants are held in high esteem when they do more than just identify problems and propose solutions. They help the client develop the internal capacity to solve their own problems, now and in the future. That's what leads to lucrative return engagements and scores of enthusiastic referrals.
Coaching skills will make your consulting more effective, marketable, and profitable.
These are skills at the very heart of coaching. If it's the skill set you are after, coach training can provide it. You will bring an entirely new perspective to your clients, and then it doesn't matter whether you call yourself coach, consultant, guru or chief.
---
Making a Difference
At this point, you may be wondering: "How can I be certain, in advance of undertaking something new, that I will really 'love it enough' to generate the energy to succeed?"
That's a good question. Will you have enough "passion" to do the work? To answer it, let's first set aside all the romance language.
Another way to translate "loving what you do" is to ensure that what you are doing aligns with your core values and supports who you are as a person.
It should be something you enjoy… that you feel comfortable doing… that is a natural expression of who you are. It's something that you look forward to every day… that you would continue doing, in some form, even if you were not being paid.
On the surface, this sense of contribution is why professional coaching can be quite appealing. It feels pretty good when you are helping people figure out how to move forward and regain a sense of hope about their future. You are clearly making a difference when you help others improve their lives, careers, and businesses in a meaningful way.
Remember, though, that those results are based on what your coaching clients want to achieve. Their goals determine the focus of what gets improved or changed.
So, before you dive into coaching, ask yourself: What kind of difference do I really want to make?
That's not a rhetorical question. It goes to the heart of aligning with your core values, and THAT is vital to the ultimate success of your coaching practice.
There's a lot to consider and we're here to help. Our Admissions Coaches are here to guide you through the decision-making process, to help you acquire the right information, and to direct you to relevant resources, so YOU can be the one to decide whether or not you're ready to become an iPEC Certified Professional Coach.
Next Steps: