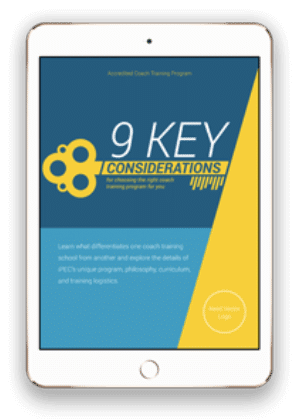 Receive actionable insights on how to select a coach training program that positions you for success.

Apply Coaching Methods Centered on Long-Term Success
Before investing in your future as a coach, you want to feel confident that you're choosing a program with the best foundation for success. A program that moves beyond traditional (and even transformational) approaches to create sustainable outcomes for your clients.
iPEC's Core Energy Coaching™ methodology focuses on the root (or "core") of a challenge and shifts the underlying energy that feeds our thoughts, emotions, words, actions and, ultimately, life experience.
iPEC's Energy Leadership™ approach provides a cutting-edge framework and research-backed metrics so you can partner with and inspire others to achieve extraordinary results in whatever they do.
iPEC's COR.E Dynamics™ leverages the 6 COR.E Influencers and 10 COR.E Disciplines of High Performance so you can masterfully produce faster results at a deeper level to optimize the client experience.
This radically effective and compassionate process has created powerful, sustainable results for tens of thousands of people in all walks of life.
Turn Knowledge Into Power
Utilize constructive resources to inform and inspire every step of the journey toward your future as a coach.
Blog
Coach Training Isn't Just for 'Coaches'
The vast majority of professionals who use coaching techniques and skills don't have "coach" in their professional titles and don't aspire to.
BLOG
iPEC's CPC Increases HR Salary by 28%
PayScale.com research shows HR professionals who became an iPEC CPC (Certified Professional Coach) were promoted more often than colleagues who had no certifications by 14%. That same group also took home 28% more pay.
eBook
Life Coaching: Everything You've Wanted to Know (But Were Afraid to Ask)
What is coaching? How do you become a life coach? And, how can it help you start a business or get a promotion?