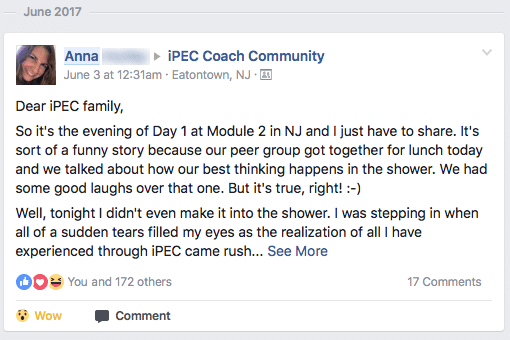 What It's Really Like to Attend iPEC
Last week, a current student expressed what it's REALLY like to attend iPEC.
We asked for her permission and she wholeheartedly encouraged us to share her Facebook post hoping it would be inspirational to anyone thinking of taking the leap.
(Below is the full text of her post)
------------------
Dear iPEC family,
So it's the evening of Day 1 at Module 2 in NJ and I just have to share. It's sort of a funny story because our peer group got together for lunch today and we talked about how our best thinking happens in the shower. We had some good laughs over that one. But it's true, right! :-)

Well, tonight I didn't even make it into the shower. I was stepping in when all of a sudden tears filled my eyes as the realization of all I have experienced through iPEC came rushing in.
My tears fell like healing waters with the water from the shower and it was as if though the last bit of understanding and releasing of my gremlin took place.

And now I am laying here in my hotel bed trying to fall asleep but it's hard to stop grinning as I think of the freedom I have found and how my life will never be the same.

You see I thought that I was here to become a life coach so that I could finally step into a greater purpose, help others and obtain that significance that I have desired for as long as I can remember. But now I know it's not about becoming a certified life coach and it's definitely not about feeling significant.

It's about today. It's about being present in every moment, embracing the journey and being ready for whatever awesome adventure comes my way. It's about the friendships I am making and how we are loving, accepting and investing in one another. It's about being authentic, open and vulnerable as I discover the perfectly unique value in everyone and in me, too. It's seeing everything in life - past, present and future as an opportunity to grow, learn and love.

Oh, I am still super motivated and excited to continue my journey and obtain my certification. I get goosebumps when I think of what it will be like to be a coach. The thing is that I'm not waiting for that moment. I don't need that piece of paper to fill something within me. I don't need a thriving coaching business. I don't need anything to happen in order to feel like I am enough. I am already there.

Thank you, iPEC for creating more than a coach training program. There is so much transformation taking place within me and I know that I am just getting started. I look forward to walking this lifelong journey with each of you.

All the best,
Anna
------------------

If you're ready to take the leap and enroll in iPEC, schedule some time to speak with an Admissions Coach - click here.